Kerala PSC Thulasi: The Kerala Public Service Commission (Kerala PSC) is a prestigious organization responsible for recruiting candidates for various government jobs in the state of Kerala, India. Kerala PSC Thulasi is an online platform that has revolutionized the recruitment process, making it more accessible and efficient. In this comprehensive guide, we'll explore how to register on Kerala PSC Thulasi, how to log in, and valuable tips for exam preparation. Whether you're a job seeker or an aspirant aiming to crack Kerala PSC exams, this guide is for you. Kerala PSC head office situated in Thulasi Hills, Pattom Palace P.O.,Thiruvananthapuram 695 004 Kerala.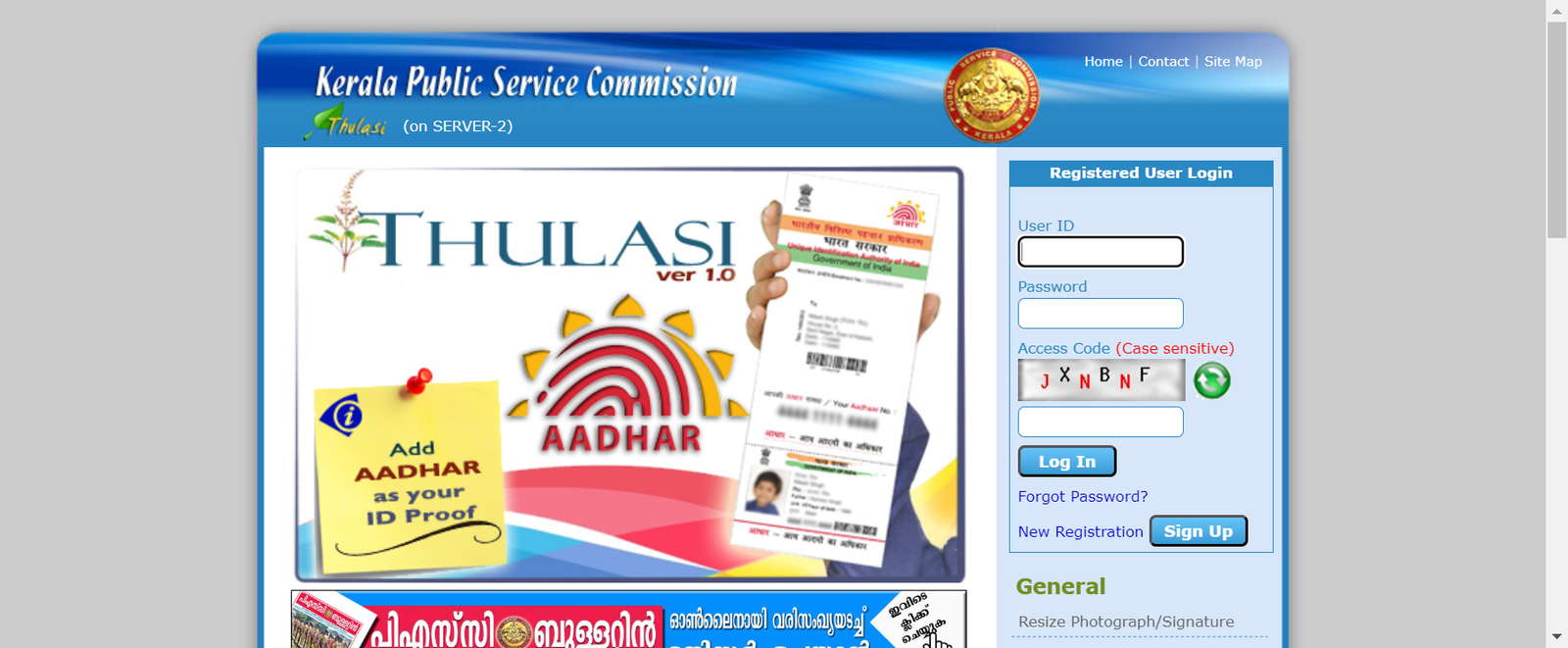 Table of Contents
kerala PSC Thulasi Key Highlights
Organization Name
Kerala Public Service Commission (KPSC)
Exam Name
KPSC Thulasi or PSC Kerala Thulasi
Job Category
State Govt Jobs in Kerala
Vacancies
Various
Mode of Application
Online
Application Start Date
Started
Selection Procedure
Stage 1: Preliminary Exam
Stage 2: Mains examination
Stage 3: Interview
Job Location
Kerala
Official Website kerala psc thulasi in
keralapsc.gov.in
What is Kerala PSC Thulasi?
Kerala PSC Thulasi is an online portal introduced by the Kerala Public Service Commission to streamline the recruitment process for various government jobs. It provides a unified platform for job seekers to apply for positions, receive notifications, and stay updated on the latest vacancies.
What are the documents required for Kerala PSC Thulasi one time registration?
Valid ID proof is required for one time Thulasi Registration, You can use any one ID proof mentioned below
AADHAAR
Account No. of Nationalized / Scheduled Bank
Conductor License
Driving License
Central Employees ID
ID for Physically Handicapped issued by Social Welfare Department
Bar Council ID
Ex-Servicemen ID
PAN Card
Passport
PEN for State Employees
Voters Identity Card
How Job Seeker can register for Kerala PSC Thulasi Online Portal?
Here you will get step by step procedure for Kerala PSC One Time Registration 2023
Kerala Public Service Commission One Time Registration
Any job seeker who is interested in Kerala PSC Jobs first of all he/she must visit official website of Kerala PSC Thulasi @thulasi.psc.kerala.gov.in and click on "Sign Up" button.
Before registration candidates make sure they have photograph and signature ready for upload in Kerala PSC Thulasi official website and valid ID proof like PAN, AADHAR, Passport etc. For both photo image type should be JPG and maximum size 30 Kilo Bytes. Photograph image dimension is 150px width and 200px height. Signature image dimension is 150px width and 100px height.
Candidates must fill New Registration Details required fields like Name, DOB etc.
Then Candidates must fill User ID and password and must enter access code (Captcha) and self declaration checkbox for correct information, after that candidates must click on Register button.
If registration is successful candidates will get successful registration message and must login with User ID and and password to complete the registration.
Login to Kerala PSC
Now after login with user ID and password candidates must follow below steps to complete the registration process, each step there is option Save & Proceed.
Step 1: Fill Personal Details. Here fill information like name, DOB, Gender etc.
Step 2: Fill Communication Details. Here fill information like residing address, district, taluk, village etc. Here candidates will find e-Contact option (email & mobile), this is optional but candidates are encouraged to fill these information also because candidates will get latest alerts by email or SMS.
Step 3: Upload Photograph, Here candidates must upload photograph in JPG format.
Note: Name and date of photograph taken must be written in bottom of the photo.
Step 4: Upload Signature, Here candidates must upload signature in JPG format.
Step 5: Final state: Preview and Submit, Here candidates can take print out of all details by clicking on "Print Registration Details". button, for final submission please click on "Submit" button. Now you are done with one time KPSC Thulasi Registration 2023
Kerala PSC Thulasi Login My Profile
Here you will get step by step procedure how to login in Kerala PSC Thulasi Online Portal.
Candidates must visit official website of KPSC Thulasi .
Job seeker must register in KPSC Thulasi online portal.
In official website there must be a section "Registered User Login".
Candidates must enter User ID, Password and Access Code and after that candidates must click on Log In button.
Now candidates can access the My Profile section.
How to visit Kerala PSC Thulasi Login if I lost my user details ?
If any candidate forgets his/her login details he/she can easily get user details by sending SMS to 166/ 51969 /9223166166 numbers.
To get user detail send SMS KL USR
To reset password send SMS in KL USR RST USERID DOB format. Example if user is johndoe and date of birth is 15/02/1991 then SMS will be KL USR RST johndoe 15021991
Latest Kerala Public Service Commission Recruitment 2023
For more details please visit official notifications page
How to apply for various posts published by Kerala PSC Thulasi 2023?
For applying various posts candidates must visit Thulasi official website, after login please click on "Apply Now" button, before applying candidates must verify eligibility criteria, age limit & and last date.
How to download Kerala PSC Thulasi Exam hall ticket 2023?
User can get details of KPSC exam admit card / hall ticket by sending SMS to 537252 number.
To get Hall Ticket availability send SMS KPSC HT.
To know barcode send SMS KPSC BC Category Code.
For more options of KPSC SMS services send SMS KPSC HLP.
For downloading admission ticket for interview, practical test please visit Thulasi official online admission ticket system.
Admission ticket for OMR/written test click here.
Where I can get KPSC Kerala Public Service Commission Exam 2023 Syllabus ?
Visit this link and download KPSC Kerala Public Service Commission exam 2023 latest syllabus by post-wise.
Where I can get Previous Year Question Paper for Kerala Public Service Commission KPSC Exam ?
After visiting this link you will get option "Question Paper" column, then click on Questions depending on posts. You can also visit this link for old papers from year 2014 to 2023
Kerala PSC Month-wise Exam Calendar
Officials has published various Kerala PSC Exam Calendar for upcoming and recent exams. Candidates who have applied for the exam must check the exam calendar and prepare for the up coming exam. Candidates must submit the confirmation for the applied exam. After confirmation admit card will be generate. Below we have listed KPSC Exam Calendar for various exams.
Upcoming September 2023 Exam Calendar
Category No
Admit Card Available Date
Post & Department Name
Exam Date & Time
732/2021
22/08/2023
HIGHER SECONDARY SCHOOL TEACHER
(ARABIC)-JUNIOR (Kerala Higher Secondary
Education) – Direct Recruitment
05/09/2023
Tuesday
10.00 am to 12.30pm
423/2021
24/08/2023
TOWN PLANNING OFFICER (PLANNING)
07/09/2023
Thursday
07.15 am to 09.15 am
687/2022
25/08/2023
JUNIOR LECTURER IN APPLIED ART
08/09/2023
Friday
09.30 am to 12.00 pm
125/2022
25/08/2023
ASSISTANT PROFESSOR IN LAW
08/09/2023
Friday
09.30 am to 12.00 pm
For more exams calendar check given link. Kerala PSC Exam Calendar 2023 PDF download Click here
Interview Calendar
Please visit this link for upcoming interview schedule.
Where I can get Thulasi Provisional Answer Key, Final Answer Key, List of Provisional Answer Keys?
After exams Kerala PSC publishes answer key. Any objections related to the Answer Key should be submitted online only through the OTR profile of candidates. Check below links for Kerala PSC Exam answer key.
kerala PSC Thulasi Recruitment 2023 Result
Short Lists Candidate
Click here for provisionally eligible short list candidates called for interview for various posts.
Ranked Lists Candidate
Click here to check list of candidates who are finally selected for various posts.
Important Links
Recommended book list to clear Kerala PSC Exam 2023
If you are really interested in Kerala PSC jobs and want to crack KPSC Exam then check recommended book lists page
Kerala PSC Thulasi – Key Features and Benefits
Notifications and Alerts
Kerala PSC Thulasi provides timely notifications about new job vacancies, exam schedules, and other important updates. This ensures that you never miss an opportunity to apply for your desired government job.
One-Time Registration
The one-time registration process on Kerala PSC Thulasi eliminates the need to fill out multiple application forms for different job openings. Once registered, you can simply log in and apply for various positions.
User-Friendly Interface
The Thulasi portal is designed to be user-friendly, making it easy for candidates to navigate through the website, update their profile, and apply for jobs effortlessly.
Exam Syllabus and Study Material
Kerala PSC Thulasi provides valuable resources such as exam syllabus, study materials, and previous year question papers, helping candidates prepare effectively.
Kerala PSC Exam 2023 Preparation Tips
Understand the Syllabus: Familiarize yourself with the exam syllabus and focus on the relevant topics.
Create a Study Schedule: Plan your study routine, allocating sufficient time for each subject.
Practice Previous Year Papers: Solve previous year question papers to get an idea of the exam pattern and improve time management.
Stay Updated: Keep an eye on the Kerala PSC Thulasi portal for exam-related updates and notifications.
Take Mock Tests: Mock tests can help you assess your preparation level and identify areas that need improvement.
Stay Healthy: Don't neglect your health. Proper sleep, exercise, and a balanced diet are essential for effective preparation.
Further Assistance and Contact Information
Contact Kerala PSC
If you have any additional questions or need assistance with Kerala PSC Thulasi, you can contact the Kerala Public Service Commission through the following channels:
Helpline Numbers: Kerala PSC provides helpline numbers for candidate support. These numbers are typically available during office hours and can be found on the official Kerala PSC website.
Email: You can send your queries to the official Kerala PSC email address for prompt responses. Check the website for the most up-to-date email contact.
Physical Address: If you prefer to visit in person, the Kerala PSC headquarters is located in Thiruvananthapuram, Kerala. Refer to the official website for the exact address.
Kerala PSC Thulasi – FAQs (Frequently Asked Questions)
what is Kerala PSC Thualasi?
Kerala PSC Thulasi is a State Government Organization in Kerala that recruits qualified candidates for various Govt department in Kerala.
How to login to my profile page?
To log in to the Thualsi portal, candidates must do one-time registration on the Kerala PSC website. After successful registration, users can log in using the User ID, Password, and access code.
What is the official website for kerala psc thulasi.in?
The official website of PSC Thualsi is thulasi.psc.kerala.gov.in
Conclusion
Kerala PSC Thulasi has transformed the way individuals prepare for and apply for government jobs in Kerala. Its user-friendly interface, comprehensive notifications, and valuable study materials make it an indispensable tool for job seekers and aspirants. In this guide, we covered the registration process, login procedures, key features, and exam preparation tips. Remember, staying informed, following a structured study plan, and maintaining a healthy lifestyle are vital aspects of success in Kerala PSC exams.
By utilizing the resources provided on Kerala PSC Thulasi, staying updated through official notifications, and actively preparing with dedication, you can significantly enhance your chances of landing a prestigious government job in Kerala. Best of luck on your journey towards a successful career through Kerala PSC Thulasi!