Bank Jobs 2023–24 | Latest Banking Recruitment Notifications – Banking is one of the fastest-growing industry in India, and they are considered the backbone sector of the Indian Economy. Every year numerous banking organizations like IBPS, SBI, RBI, Indian bank, IDBI, South Indian Bank, Canara Bank, etc., are conducting examinations to recruit suitable candidates for various posts. This web page is for the job seeker who is looking for the latest vacancies in the Banking sector in India. Banking Jobs are an extremely good option for candidates who want to build their careers and looking for their dream job. From the below list candidates, can check various Banking Jobs opportunities in Government Banks also known as Public Sector Banks (PSB), Nationalized Banks, Regional Rural Banks, Co-operative Banks, Urban Co-operative Banks, State Co-operative Banks, Scheduled Commercial Banks, Private Banks, Insurance & Govt Financial Institutes Companies.
Latest Bank Jobs Notifications 2023
| Job Title - Vacancies | Bank Name | Qualification | Last Date | Apply Link |
| --- | --- | --- | --- | --- |
| Officer - 103 | PNB | Graduation | 30/08/2022 | Apply Here |
| Probationary Officer - 0 | Citizen Credit Bank | Graduation | 02/08/2022 | Apply Here |
| Special Officer - 226 | IDBI Bank | B.E/B.TECH, Graduation, Post Graduate | 10/07/2022 | Apply Here |
| Specialist Officers - 325 | Bank of Baroda | Diploma, Graduation, Post Graduate | 12/07/2022 | Apply Here |
| Branch Head - 625 | NESFB | - | 14/06/2022 | Apply Here |
| Assistant Manager - 1544 | IDBI Bank | Graduation | 17/06/2022 | Apply Here |
| Relationship Manager - 0 | CUB | Graduation | 03/06/2022 | Apply Here |
| Specialist Officers - 312 | Indian Bank | Graduation, Post Graduate | 14/06/2022 | Apply Here |
| Special Officer - 100 | Almora Urban Co-Operative Bank | Graduation, LLB, Post Graduate | 12/06/2022 | Apply Here |
| Channel Manager - 641 | SBI | - | 07/06/2022 | Apply Here |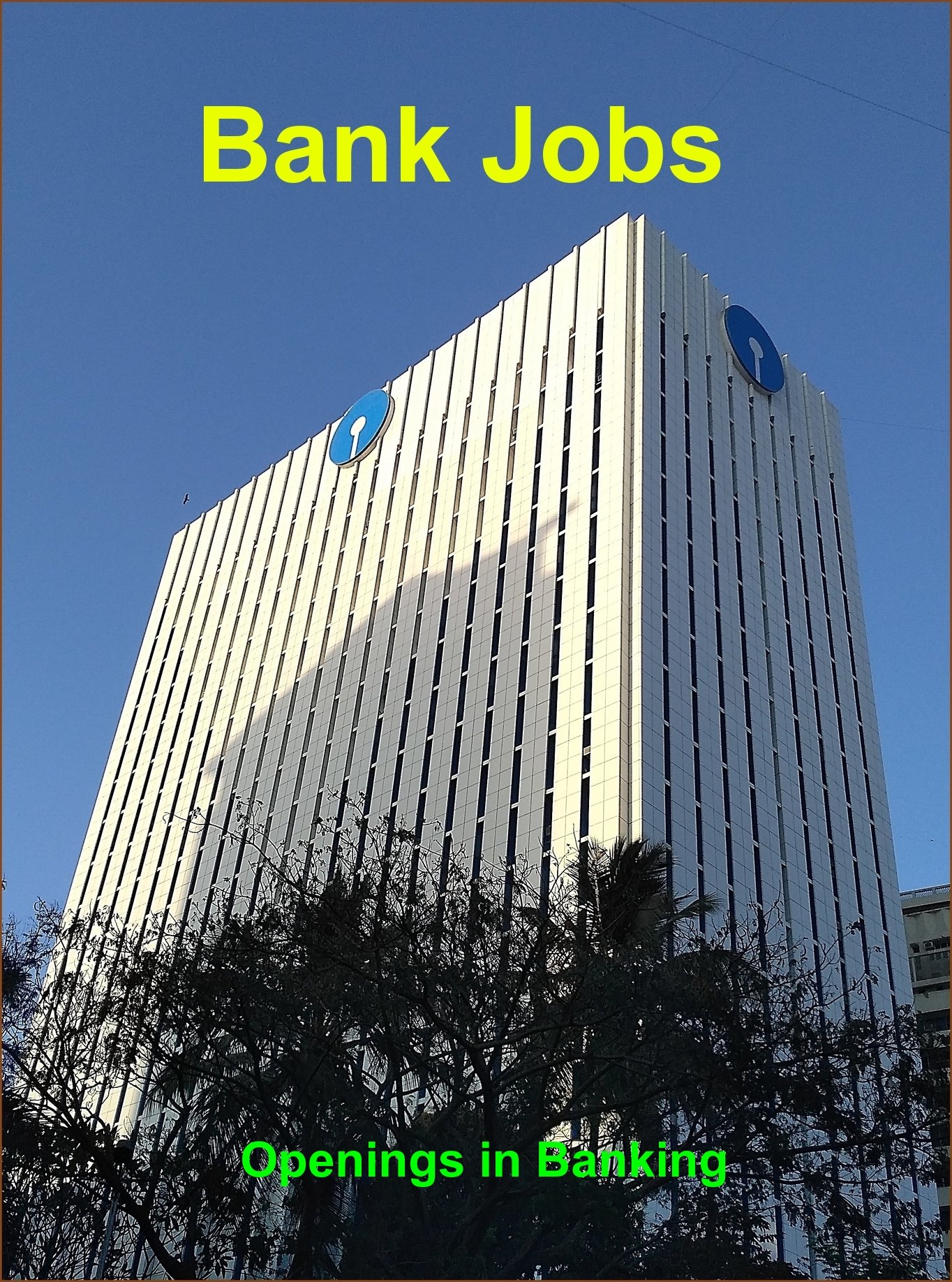 Bank Jobs Vacancy
| | |
| --- | --- |
| Clerk | Probationary Officer (PO) |
| Specialist Officers | Management Trainee (MT) |
| Assistant | IT Officer |
| Marketing Officer | Customer Care Executive |
| Agricultural Field Officer | Law Officer |
| Consultants | Managers |
Benefits & Feature
The banking sector offers a very lucrative career option. Every year, public sector and private sector banks recruit candidates for different posts.
With multiple public and private banks mushrooming in the country, there is a high demand for eligible candidates in this domain.
Bank Jobs Eligibility Criteria
Before filling in the online application form for the post, the applicant should ensure that they fulfill the eligibility criteria related to age, educational qualifications, work experience, etc. Candidates who are meeting the requisite criteria are only eligible to apply. Candidates who are fulfilling the requisite criteria are only eligible to apply.
Age Limit: Applicant must have a minimum age of 18 years to a maximum of 28 years for clerical posts. It will be variant as per banks.
Bank Jobs as per Education Qualification:
10th / 12th Pass Bank Jobs: Candidates should pass 10th / 12th for posts such as Peon, Sweeper, Security Guards, Apprentice, Clerk / Clerical Cadre, Cashier, CSR (Customer Service Representative), Clerical Attendant etc.
Degree Pass Bank Jobs: Candidates Should possess degrees for posts such as Office Assistant, Probationary Officer (PO), Management Trainees (MT), Circle Based Officers (CBO), Specialist Cadre Officer, IT Officers, Agricultural Officers, Finance Officer, Law Officers, Managers, Manager Analysts, Consultants, Executives, Senior Special Executives, Director etc.
Pay Scale: In addition to the basic pay scale for various posts, Special Allowance, Dearness Allowance, and other allowances will be payable as per prevailing rules and regulations in the Bank. Further, the officer will also, be eligible for amenities like residential quarters/lease rent in lieu of quarters, LFC, reimbursement of medical/hospitalization expenses, and other perquisites as per the policy of the Bank.
About Bank Jobs
Probationary Officers: This is a managerial position in a bank. The probation period is two years in which the officer is exposed to different types of banking-related activities. A Probationary Officer can reach up to a level of a Chairman. Starting Salary as a Bank PO ranges from Rs. 30,000 – Rs. 40,000, depending upon bank to bank and location of posting.
Specialist Officers: Specialist Officer is appointed for specialized roles in various departments such as Information Technology Officer, Agriculture Field Officer, Rajbhasha Adhikari, Law Officer, Technical Officer, HR/Personnel Officer, Marketing Officer, etc. Usually, the grade and the starting salary of Specialist Officer is in the same range as Probationary Officers.
Clerk: As the name suggests, this is a clerical position in the bank and this can be considered an entry-level job in a bank. They are the primary point of contact for most bank customers. After three to four years of service, a clerk can be promoted to the post of a Trainee Officer. The salary of a Bank Clerk is generally in the range of Rs. 20,000-25,000 depending on bank to bank and posting location.
Different Banking Sector & it's functionality
IBPS (Institute of Banking Personnel Selection)
IBPS currently functions as an autonomous body that is mainly engaged in conducting competitive exams for recruitment to clerical and officers' posts in the banking sector.
NABARD
"National Bank for Agriculture and Rural Development" – NABARD is a financial institution with the goal of rural development in India. NABARD by virtue of its Financial, Developmental, and Supervisory role is touching almost every aspect of the rural economy, including providing finance support, building rural infrastructure, preparing district level credit plans, guiding and motivating the banking industry in achieving credit targets, supervising Cooperative Banks and Regional Rural Banks, helping banks to develop sound banking practices, enabling them to onboard to the CBS platform, designing new projects for rural development, implementing GoI's development schemes, training handicraft artisans and providing them a marketing platform for selling their articles, etc.
Selection Procedure
The selection process is different for different posts. Most of the Banking Jobs selection is based on Competitive Written Examination (Computer Based), Group Discussion (if conducted), and/or Personal Interview.
An adequate number of shortlisted applicants will be called for Interviews.
Mere eligibility will not vest any right on the applicant for being called for an Interview.
The bank reserves the right to make required modifications in the selection process considering the number of applications for the post and also decide the number of applicants to be called for an Interview.
In matters regarding eligibility and selection, Bank's decision will be final and no further
correspondence will be entertained.
How to Apply for Bank Jobs
Candidates who strictly meet the eligibility criteria only need to apply. The Guidelines / Procedure to apply for bank jobs are as follow:-
Application Registration:-
Eligible applicants are requested to apply Online through Bank's official website. No other means/modes of applications will be accepted.
Before the registration, applicants are requested to ensure that there is a valid email id in his/her name.
Candidates are advised to carefully fill and verify the details filled in the online application themselves. The applicants are requested to ensure that the information provided in the Online Application Form is correct before submitting the application form.
Applicants making multiple registrations will be disqualified.
Payment of Fees:-
Fee / Intimation charges once paid will NOT be refunded on any account nor can it be held in reserve for any other examination or selection.
Bank Transaction charges for online payment of application fee /intimation fee will have to be borne by the candidate.
The payment can be made by using Debit Cards (RuPay/Visa/MasterCard/ Maestro), Credit Cards, Internet Banking, IMPS, Cash Cards/ Mobile Wallets/UPI.
Document Scan and Upload:-
Candidates have to scan their photograph, signature. Left thumb impression and handwritten declaration ensuring that all documents adhere to the required specifications as given under Guideline for photograph & signature scan and upload.
Applicants are advised to retain two copies of the same photograph which is used in the application for use at the time of the Interview.
Top Exams for Bank Jobs in India
Bank Name
Exam Name
SBI (State Bank Of India)
Clerk for Junior Associates -JA
PO (Probationary Officer)
SO (Specialist Officer)
IBPS (Institute of Banking Personnel Selection)
Common Written Examination (CWE) – Clerical
Common Written Examination (CWE) – PO/MT
CRP (Common Recruitment Process) SO (Specialist Officers)
RRB (Regional Rural Banks)
RBI (Reserve Bank of India)
Office Assistant
Officer Grade B
Bank Exams Syllabus
Banking: Function of RBI, Types of Accounts, Banking Abbreviations & Policy Rates.
Computers: Internet (Concept, History, Working Environment, Application), Security Tools, Virus, Hacker, MS Windows & MS Office, Logic Gates, Number System, History of Computers, Hardware, Software, Database (Introduction), Communication (Basic Introduction), Networking (Lan, Wan).
English Language: Para Jumbles, Vocabulary, Multiple Meaning Words, Reading Comprehension, Cloze Test, Error Spotting, Sentence Correction, Paragraph Completion, and New Pattern Questions of various types.

Quantitative Aptitude: Number Systems, Ratio & Proportion, Percentage & Averages, Mixtures & Alligation, Simple Interest & Compound Interest, Surds & Indices, Time & Distance, Quadratic Equations, Data Interpretation, Profit & Loss.

Current Affairs: Economy-based current affairs, Government Schemes, Awards and Honors, Summits, Committees, National and International, Obituaries, Business NEWS, Agreements, New Appointments, Visits, Reports and Indexes, Books and Authors, Defense, Sports.

Reasoning Ability: Data Sufficiency, Non-Verbal Reasoning, Sitting Arrangements, Tabulation, Logical Reasoning, Coded Inequalities, Syllogism, Input-Output, Coding-Decoding, Alphanumeric Series, Ranking / Direction / Alphabet Test.
Bank Jobs FAQ
Can I apply for more than one bank job at a time?
Yes, you can apply for more than one job at a time.
How many years of experience do I need to qualify to apply for a bank job?
Bank's job is open to hire freshers as well as experienced candidates depending on the vacant roles and business needs.
What is the age range for Bank jobs in India?
Age Limits : For the post of Clerks 18 - 28 yrs & for Officers/PO posts 21 - 30 yrs would be the general condition. Apart from this, there are relaxations for candidates of certain categories.
Is MBA necessary for Bank jobs?
MBA is NOT necessary for entry level recruitments conducted by public sector banks. Entry level jobs are Clerks, Probationary Officers & in some cases Managers. For applying to these positions, the minimum eligibility would be a Degree or Pass in 12th/10th std in any discipline.